Agents Learn Lifesaving Skill
Posted by Melissa Brokaw on Tuesday, May 14, 2019 at 3:20 PM
By Melissa Brokaw / May 14, 2019
Comment
"For every one minute without CPR, you lose 10% of your chance of survival."
The grim statistic shared by the instructor got her class's attention. Call 911, and start CPR right away. It's the difference between life and death, or irreversible brain and organ damage. Even if you don't know how.... try something!
It's this message that brought Scott Pridemore and other Pridemore Properties agents to the Mecklenburg EMS (MEDIC) headquarters on Wilkinson Boulevard. "Something," they learned, is better than nothing. And now with "Bystander CPR," also known as "Hands-Only CPR," that "something" is easier to do than ever.
The point of Bystander CPR is to keep blood moving through a heart attack victim's body, even after their heart has stopped. Keeping the blood moving allows oxygen to continue feeding the body during those precious first minutes until help can arrive.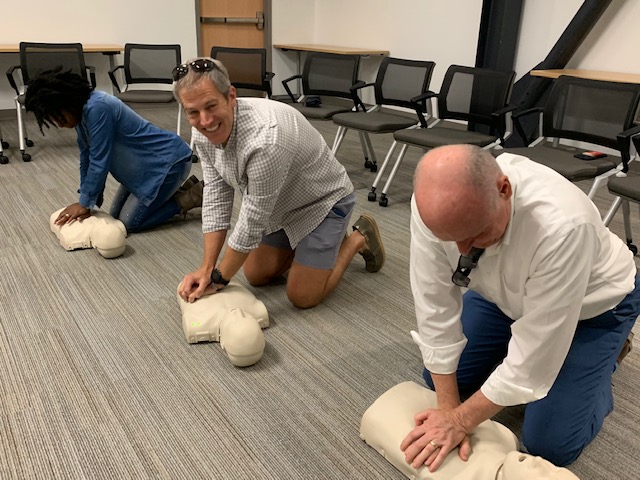 The big difference between traditional CPR and Bystander CPR is the "rescue breaths" -- also known as mouth-to-mouth resuscitation. Giving rescue breaths makes many people reluctant to start CPR on a total stranger, wasting those precious minutes. Bystander CPR allows a "hands-only" approach that doesn't require rescue breaths.
Studies have shown adults have enough oxygen in their body to sustain them for 8 - 10 minutes, if blood is moving through their bodies -- and as long as someone is performing chest compressions. Scott Pridemore thought this was an important message to share.
"I thought this would be something of great value, so I wanted to offer it to our agents," said Pridemore. He learned about Bystander CPR during a Charlotte Real Estate Talk podcast with MEDIC Public Information Specialist Lester Oliva. He wanted everyone to know how simple Bystander CPR is, and signed up for a group class.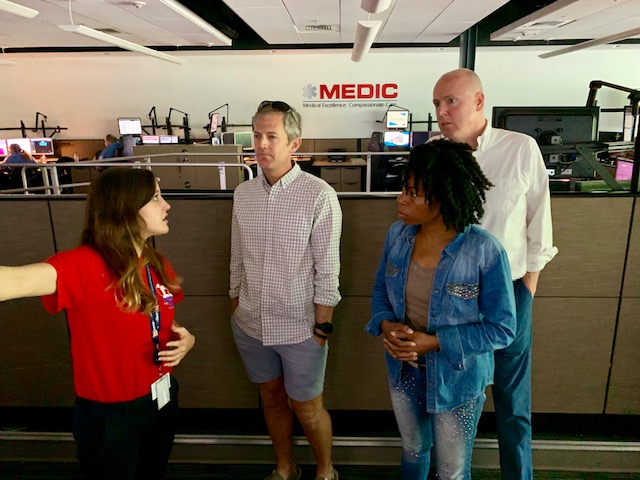 "I learned not to worry about doing it right," he said of the class. "Just do it. Ask bystanders to help."
On the podcast, the two also talked about the PulsePoint app which allows users to be alerted in a nearby emergency is needed, and where to find an Automated External Defibrillator, or AED, which can shock a heart attack victim's heart back into the proper rhythm during cardiac arrest. Learning to use an AED was also part of their Bystander CPR class.
"You never know when you'll be called to help, and I wanted to be able to help," said Sharon Davis, a Pridemore Properties Agent. Davis has five children of her own, and remembers taking a CPR class when she was pregnant seven years ago. She admits she barely remembers any of that class, but this refresher brought a lot of it back. Her biggest takeaway: "Take action. Don't hesitate."
Pridemore Properties' Ryan Bullard also has three children. He took a CPR class years ago, but was unfamiliar with an AED. "I didn't know the placement of my hands, or the AED paddles," he admitted. "But I wanted to be able to do something if I'm ever in those circumstances."
The quick lesson -- it only took an hour of these agents' busy days -- wrapped with a tour of the MEDIC dispatch center. But an hour was enough time to learn that in just minutes, they can make a difference.